Essays by Gerald Vizenor
Rick Bartow: Maestro of Totemic Liberty
First written for an exhibition of Rick Bartow's work planned for August, 2016, at the Museum of Contemporary Native Arts in Santa Fe.
Bradlian Baroque: The Narrative Art of David Bradley
Written for the catalog for David Bradley: Restless Native, the Journey, exhibited January 23–May 10, 2009, at the Nicolaysen Art Museum & Discovery Center in Casper, Wyoming.
George Morrison: Anishinaabe Expressionist Artist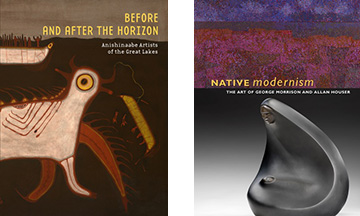 Covers featuring the artwork of Rick Bartow
A painting by contemporary French painter Pierre Cayol, Le Début et la Fin, graces the cover of Shrouds of White Earth. Cayol also contributed original drawings. One of which is pictured here. Vizenor and Cayol also collaborated on an art book, Calm in the storm / Accalmie.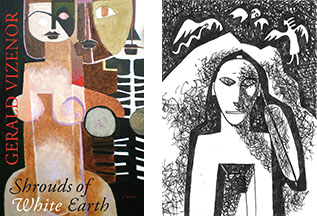 Karen Lohman provided illustrations for Bearheart: The Heirship Chronicles, as well as for Landfill Meditations: Crossblood Stories and The Heirs of Columbus, pictured here.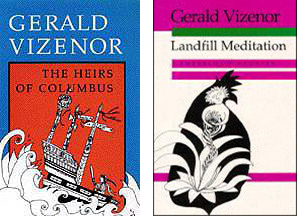 The mechanical, film, and finished jacket for Landfill Meditations: Crossblood Stories, published in 1991.